BUSINESS CULTURE IN BRITAIN AND THE USA
- Sectors of the Economy
Primary sector : Agriculture, Forestry
(sylviculture)
and logging
(exploitation forestière)
, Fishing
(pêche)
and hunting
(chasse)
, Mining
(exploitation minière)
and Quarrying
(carrières)
.
definition
: everything that :
- extracts or harvests(récoltes) products from the earth.
- usually includes the packaging and processing of the raw materials
The proportion of workers keeps decreasing in most countries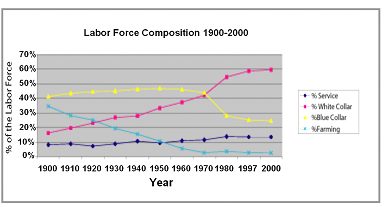 Secondary sector(Manufacturing sector) : Metal working and smelthing, car production, textile production, chemical industries, energy utilities, breweries, construction and ship building, aerospace manufacturing, manufacture of finished goods.
In the past 30 years, the UK's manufacturing sector has shrunk by two-thirds, the greatest de-industrialization of any major nation.